Frequently, the reports that reach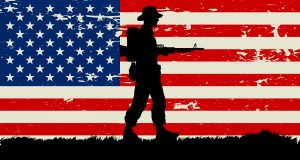 our shores from the other side of the Atlantic tell the story of a country dealing with the aftermath of a tragic mass shooting. The USA's complex relationship with guns can be traced back to the Empire, the fight for independence and the American constitution.
But there are many reasons why after 200 years, the number of people killed by guns in the US is larger than in any other country.
Historian, Dr Matthew Ward (University of Dundee) has studied how guns and violence were depicted in the culture and mass media of the time. These images and stories were linked closely with ideas of masculinity, influencing the way men acted and the roles they played in society. Today these traditional views on what it means to be a man are still commonplace and this toxic masculinity is harmful to men and society.
At this event Dr Ward shared his insights on the links from the past to present day, and what we can learn about guns, violence and masculinity in today's troubled America.