For the last 15 years Brendan Body has
been a computer animator working in film
and television.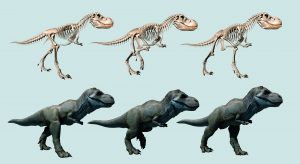 He has worked on popular films such as Harry Potter, The Amazing Spider-man, Pacific Rim, and The Hobbit: The Battle of the Five Armies. Brendan is now teaching the next generation of Scottish animators as a lecturer and researcher at Duncan of
Jordanstone College of Art and Design at the University of Dundee.
In his talk Brendan will discuss his career in animation and give some insights into the world of films and visual effects. He will also talk about his current research; where he will share his knowledge of animal and human anatomy, plus biomechanics, gained throughout his career, and how he will apply this to his latest project – producing some animation for the Natural History Museum's most recent significant acquisition; a Stegosaurus fossil named 'Sophie'.
Everyone is welcome. Free. Non-bookable. Places are limited so please arrive early to avoid disappointment. Doors open at 5pm.