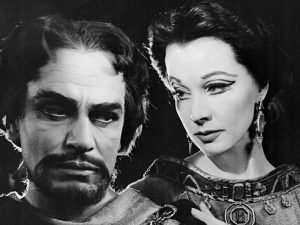 Dr Jennifer Barnes explores the story of Laurence Olivier's unmade Shakespeare film, Macbeth.
Since Macbeth was shelved in 1958 it has gained a reputation as representing a gap in the fabric of Britain's national cinema with a variety of scholars and cultural commentators wondering just what exactly Olivier's fourth and final Shakespeare film might have looked like and how it would have fitted in alongside Henry V (1944), Hamlet (1945) and Richard III (1955).
In 2012 Jennifer discovered 13 hitherto unseen screenplays for Macbeth in the British Library. In this talk Jennifer discusses how the screenplays offer us a unique insight into Olivier's approach to filming Shakespeare and how they reveal something significant about Olivier himself.
Reading the screenplays alongside Olivier's autobiography and accounts from fellow theatre stars, Jennifer shows how the unmade Macbeth exemplifies Laurence Olivier's tendency to interpret moments of personal and professional crisis through appropriations of Shakespeare. Written during a fraught period that would end with Olivier's divorce from Vivien Leigh in 1960, it becomes clear that this unmade cinematic Shakespeare plays out, through the Macbeths, the very public downfall of the so-called 'Theatre Royals.'
Join us in the relaxed atmosphere of the McManus Café for a short talk followed by your chance to ask questions and discuss the topic.
Everyone is welcome. Free. Non-bookable. Places are limited so please arrive early to avoid disappointment. Doors open at 5pm. This event is likely to last one hour.