Founded in Dundee in 2009, Vanilla Ink
celebrates and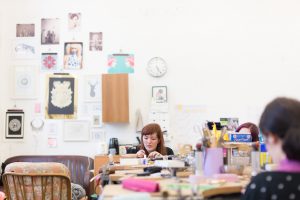 supports emerging jewellers in an open and honest environment; breeding creativity, skill sharing and strengthening the sector across Scotland and beyond.
Vanilla Ink builds a community that engages with its surroundings in a transparent way, empowering and enriching the maker and their experiences.
Founder and director, Kate Pickering will discuss the ethos of Vanilla Ink and the importance of networks, creative communities and facilitation. Kate will be joined by some of her Vanilla Ink Alumni to discuss their own experiences of the programme.
Vanilla Ink will be taking a year out to reflect on its successes and the not so successful, develop strong partnerships and review the landscape for opening both a new Vanilla Ink in Glasgow and plan Vanilla Ink Dundee 2.0.
Join us in the relaxed atmosphere of the McManus Café for a short talk followed by your chance to ask questions and discuss the topic.
Everyone is welcome. Free. Non-bookable. Please arrive early to avoid disappointment. This event is likely to last one hour.