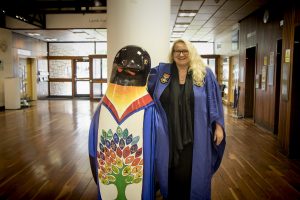 This summer has seen the streets of Dundee populated by a waddle of colourful penguin sculptures commissioned by Maggie's Dundee, a charity that supports people and families affected by cancer. The penguin sculpture was designed by Janice Aitken and each one has been decorated with individual designs by a wonderful range of artists and designers. The finale of this fantastic venture is the auction in September, making the penguin parade both an excellent fundraising initiative and a fantastic awareness raising project for the charity.
The trail has been enjoyed by adults and children of all ages, 'collecting' penguins through taking photographs and updating specially designed sticker albums, and getting out and about on foot, by bus and on their bikes.
Join Janice Aitken from the University of Dundee as she discusses the Maggie's Penguin Parade and some of the other public art pieces that she has created, including the boards recently on display at Slessor Gardens and the decorative windows for the Medical Library at Ninewells.
Everyone is welcome. This event is free and non-bookable. Places are limited so please arrive early to avoid disappointment. Doors open at 5pm.
There will be a collection in aid of Maggie's at the end of the event.