Minecraft is fast becoming one of the world's most popular computer games, especially amongst children, allowing them to freely express, share and celebrate their inherent creativity.
Derek Robertson from the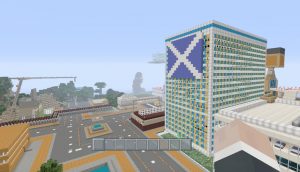 University of Dundee will explore the wondrous simplicity and complexity of the game, and discuss the challenges of introducing games like Minecraft into the formal world of the classroom. Will the rich learning continue, or is there a danger that the Minecraft phenomena
will collapse?
Everyone is welcome. This event is free and non-bookable. Places are limited so please arrive early to avoid disappointment. Doors open at 5pm.