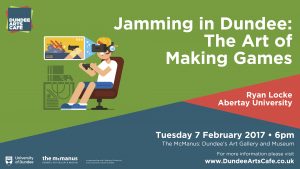 Dundee is central to the story of the computer games revolution. In this fast-paced industry, designers and programmers have created decades of innovation and opportunity. And to keep up with a relentless pace of change, game makers need to be flexible, playful creators who thrive on discovery.
So what could be better than getting people in a room together, giving them 24 hours and asking them to come up with a game before the time runs out. These 'Game Jams' have gradually become an new approach to creative challenges and their success means they are used with hobbyists, educators and policy makers.
In this talk Ryan Locke (Abertay University) will discuss how Dundee, a city long regarded for game making, is making games accessible to all through playful thinking, bringing together communities of artists, makers and people who just want to play.