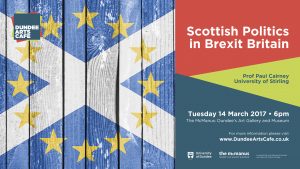 The Brexit vote has sent shockwaves through British and European politics.
We know that the UK is almost certain to leave the European Union, but not how or what effect this change will have. We also know that this decision makes a second referendum on Scottish independence more likely. Yet, we don't know much else.
In this talk, Paul Cairney examines what might happen next.
Everyone is welcome. This event is free and non-bookable. Places are limited so please arrive early to avoid disappointment. Doors open at 5pm.