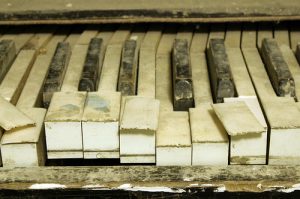 Musical instruments have long proved a source of fascination for adults and children alike. Who amongst us hasn't felt the urge to reach out and tap a drum or rattle off a quick rendition of 'chopsticks' when confronted with a keyboard? However, for curators and custodians, musical instruments present something of a challenge. On the one hand, they have a duty of care to preserve historical instruments for future generations, but if this is achieved from behind the safety of a glass case, the very things that make the instrument interesting are stripped from it and it becomes just an ornate piece of furniture.
This is where music technology can lend a hand, and in this talk Dr Kenny McAlpine will explore a method for capturing and repackaging the sound and playing characteristics of historic keyboard instruments, and how the resulting digital models might complement a traditional music collection.
This talk will take place on Tuesday 7th June at 6pm in the McManus Cafe, Albert Square.
Dundee Arts Cafe talks are held on the first Tuesday of every month at 6pm in the McManus Cafe, inside the McManus at Albert Square, City Centre Dundee. The McManus is Dundee's Art Gallery and Museum, and the cafe is located at the entrance and will be open before and throughout the talk serving hot drinks, wine or beer and snacks.
This is a FREE talk and everyone is welcome, there is no requirement to book, but there is limited seating for 60 people so please arrive early to ensure a seat.
The McManus Cafe will be open before the event serving hot meals and snacks. If you want to have a meal in the McManus before the talk you have to pre-book by calling 01382 307 201. You can view the menu at http://www.themcmanus-dundee.gov.uk/sites/default/files/cafemenu.pdf