Dundee Arts Cafe is a new series of events discussing Arts and Humanties research in Dundee over coffee. Together with the University of Dundee, the University of Abertay and the University of St Andrew's, Dundee Arts Cafe brings you the latest developments in philosophy, arts, design, history, economics and much more.
Launch Event! – Wednesday 23rd June at 5pm
'The War for Tea: China and the British Imagination'
Peter Kitson, Professor of English, University of Dundee.
Wednesday 23rd June, 5pm, Dalhousie Building, University of Dundee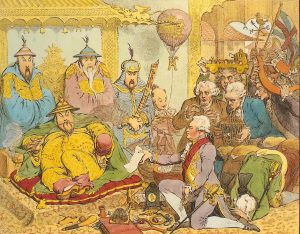 Find out how tea, the Bible and opium featured in the fascinating history between these two great World Empires and discuss the long-lasting effects these encounters have on us to this day.
As China emerges once more as an economic powerhouse its influence on our lives increases day by day. But this is not something new, at the start of the 18th century, China was generally seen as a much admired civilisation more refined and advanced than the nations of Europe; yet by the end of the 19th century, it is seen as a stagnant, degraded and inferior nation in need of British technology and religion. What caused this change of opinion?
Prof Kitson will explore how this shift in thinking can be seen in books and travel writing on China from Robinson Crusoe to Dr Fu Manchu and beyond.