Many of us today have fond memories of
playing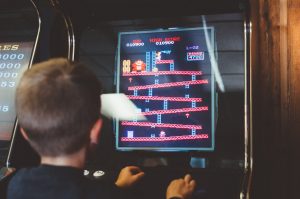 video games in our childhood, and continue to be video games fans to this day. The sights, sounds, and styles of classic games such as Space Invaders, Super Mario Bros. or Doom have impacted on everything from graphic design and fashion to music and film. But perhaps fewer of us have considered the extent to which video games engage more widely with collective and cultural memory.
In this talk, Dr Robin Sloan from Abertay University will discuss "nostalgia games" – video games that generate great appeal through their referencing of past games, films, music, technology, and shared memories of days gone by.
Everyone is welcome. This event is free and non-bookable. Places are limited so please arrive early to avoid disappointment. Doors open at 5pm.